Course details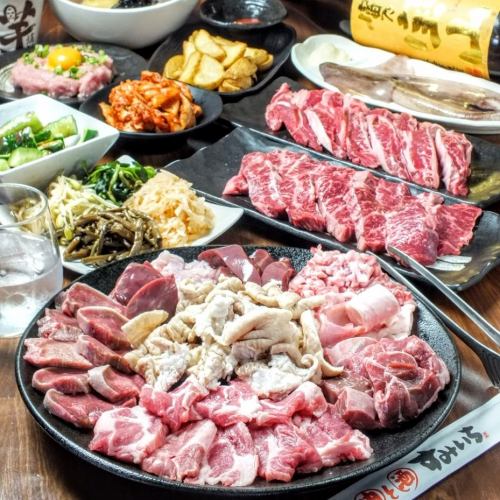 【BBQ course ★ All 11 items + 2 hour unlimited drink】 3850 yen course ♪ (tax excluded)
By using a coupon3850 yen
※ It is a tax-exclusion price.
11items

2persons

-

All-you-can-drink available

~ All-you-can-drink MENU ~
Volume full scale course with more than 50 kinds of fulfilling drinks as well as all kinds of "11 items in total" such as salads, kimchi, etc. At 3850 yen ♪
Course menu
【Contents of dish】
· Heavenly Ton-chan
· Young Calvi
· Beef Harami
·squid
·Caesar salad
· Namuru
· Tuna Yukke
· Kimuchi
· Fumesui
· Fries of potatoes
Deep-fried
* Cancellation on the day will receive a cancellation fee.Please note.※ Combined use of coupons will be impossible.
All-you-can-drink menu
·【beer】
·draft beer/
·【Highball】
· High Ball / Sumiichi High Ball
· [Shochu]
· <Tato> Black Kirishima / <potato> Kiki / Wheat Midway / Hoppy set / Japanese sake (cold or hot)
· 【Shochu High】
· Chuhai / Oolong Hi / Green Tea High / Umeboshi High / Ginger High / Cork High / Orange Hi / Grapefruit High / Lime Sour / Lemon Sour / Lyche Sauce / Anza Sour / Giant Peap Sour / Plum wine sour
·【Cocktail】
· <Cassis> cassis soda / cassis orange / cassis oolong / cassis grapefruit · <gin> jin bag / jin orange / gin tonic / gin grapefruit · <lychee> litchi orange / lychee tonic / litch grapefruit
·【Cocktail】
· <Vodka> Mosccommure / Salty Dog / Vodka Tonic / Screwdriver / <Lamb> Rum Coke / Lamb Back / Peach / Peach Orange / Peach Oolong
·【Soft drink】
· Coke / ginger ale / lime juice / oolong tea / orange juice / apple juice
Available days for reservation

Monday - Sunday - Public holidays - Holidays
Coupons that can be used with this course
2017/07/02 update